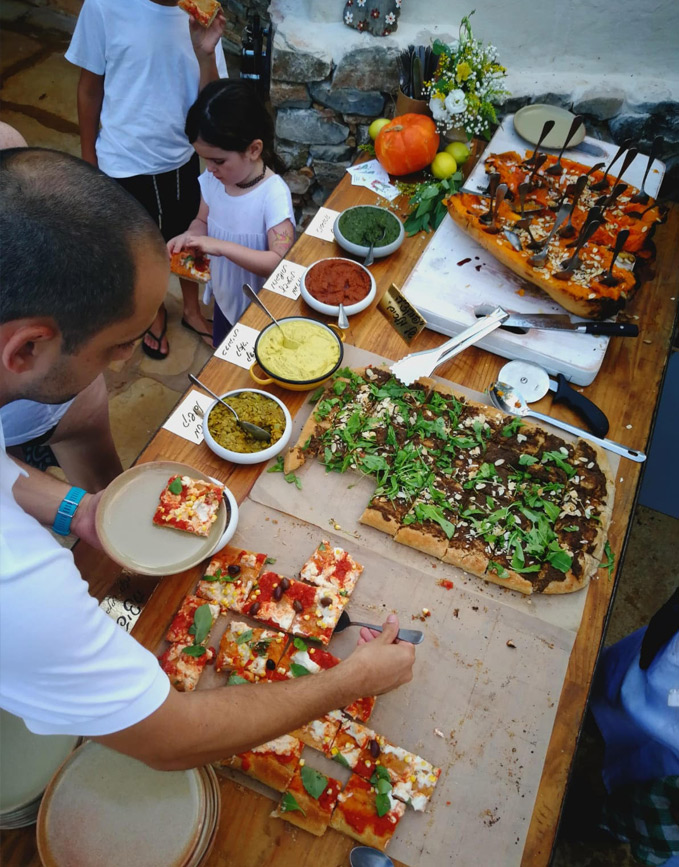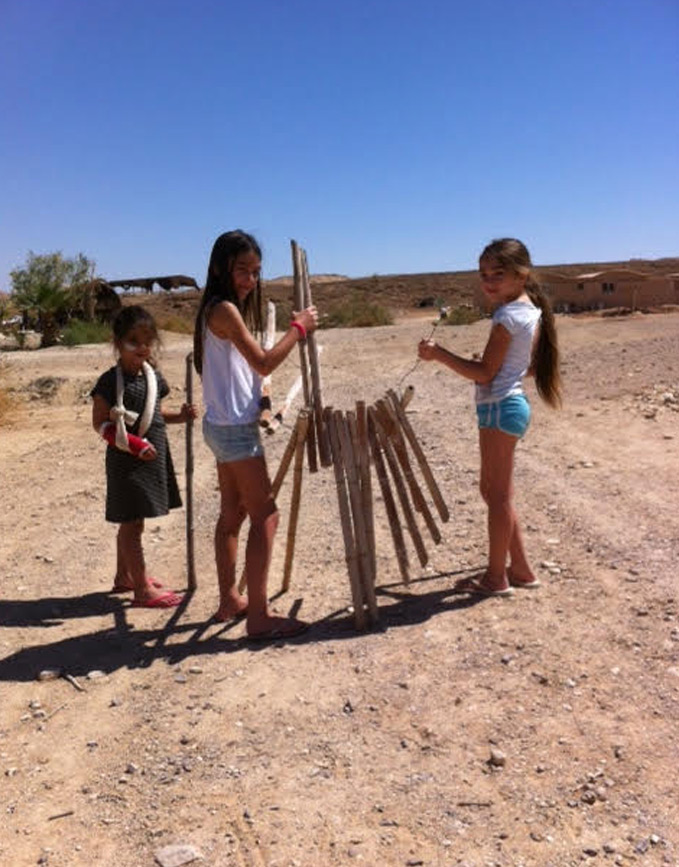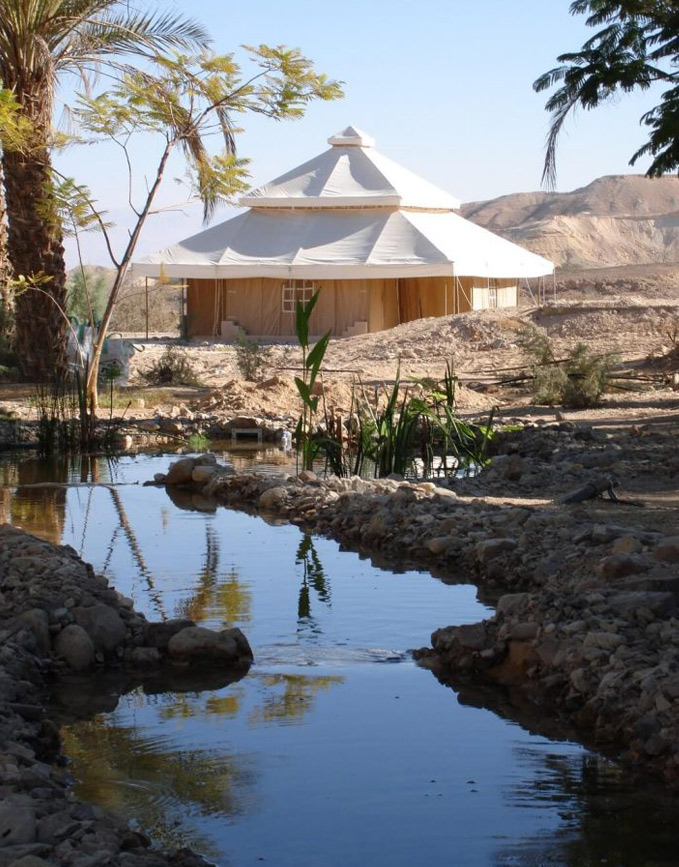 We invite you to take a break from the daily grind, and come partake in nature's beauty along with your family. All workshops and activities include premium content fit for children and adults alike, and are completely screen-free.
Moa Oasis is one of the most scenic locations Israel has to offer, and is dedicated to workshops and retreats alone. Surrounded by the serenity of the desert silence, the program focuses on reconnecting with nature and our families through hiking, art and the study of nature, earth and the parent-child bond. The workshops are conducted in atmosphere of music and joy, as families put their technological devices aside and savor their personal and shared journeys.
Moa Oasis is located in the Arava desert, between the Tzofar and Tzukim, right along the Israel national trail and the Incense and Spice route. It stretches over 60 dunams and includes an orchard, a lake and an extraordinary view of the desert's majesty.Moa is currently owned by the Method & Wisdom organization, which follows Buddhist teachings and even has multiple monks and students permanently residing on its grounds. Moa boasts a strictly non-alcoholic vegetarian/vegan kitchen, and does not permit any cars on the premises.
The site includes 30 rooms/tents, a large ceremonial hall and an intimate workshop center. During the Hebrew holidays, Moa opens its doors to families and children. Commute from Tel Aviv is a 2.5-3 hours' drive.
* Please note that teenagers above 13 will only be hosted in the April 13-15 event, in order to allow them to enjoy target workshops.
Havruta meal plan
All meals are prepared by the Ayala team – one of Israel's top vegan catering services, owned by the chef Omer Tal. All dishes will be completely vegetarian/vegan, offering a wide selection of dishes based on fresh, seasonal ingredients cooked expertly and creatively – with an emphasis on child friendly dishes. The kitchen and staff will be supervised by chef Amir Glaser.
'MOA OASIS' Room selection
All room prices include a two-night stay, meals, workshops & production.
Family room with 2 children
The room is made of the local bricks and includes air conditioning, private bathroom facilities and two beds & a double bed.
Family price: 4,600 NIS
Family PAGODA TENT with 3-4 children
The spacious, 50 square meter tent includes curtain separators, air conditioning, private bathroom facilities and two single beds, a double bed & mattresses if needed
Family price: 4,900 NIS
Family KHAN ROOM with 2-3 children
The spacious room includes air conditioning, private bathroom facilities, 2 single beds, double bed & 1 mattress.
Family price: 5,100 NIS
Small family room – 2 adults + 1 child or 1 adult + 2 children
The room includes air conditioning, private bathroom facilities, a double bed and a mattress. Suitable for couples.
Price per family (the room is smaller than the picture): 4,100 NIS
Couple price: 3,800 NIS
Payment and registration terms
To register to a workshop, please scroll down and fill the registration forms.
Please attach any further inquiries to the bottom of the registration forms and we'll get back to you by email.
Upon registering, your reservation will be saved for 3 business days. A link to a payment page will be sent to you by mail.
Payment can be made in up to installments without interest, pay in up to 3 equal installments.
During covid:
A full reimbursement (up to 24 hours before the workshop start date, subtracting a 250 NIS per family registration fee) will be made for any reasons related or caused by official lockdown, health ministry instructions, quarantine, illness, etc
Non covid related cancellations:
Full reimbursement in up to three weeks before start date (subtracting a 200 NIS registration fee)
500 NIS cancellation fee registration fee in 2 weeks before start date
Half of the payment  cancellation fee in 1 week – 2 days before start date
Full payment in cancellations 3 days or less before start day family's  are welcome to provide substitute family in any time.

PLEASE CONTACT US BY EMAIL FOR ANY FURTHER INQUIRIES
Workshop Registration Form
'Moa Oasis' Havruta workshop
Hanukkah 2022
Please fill out the forms and an email with a link to a payment page will be sent to you shortly (according to your room selection). Please note that this form does not guarantee your reservation. Reservations will be finalized upon completion of the payment. Thank you.