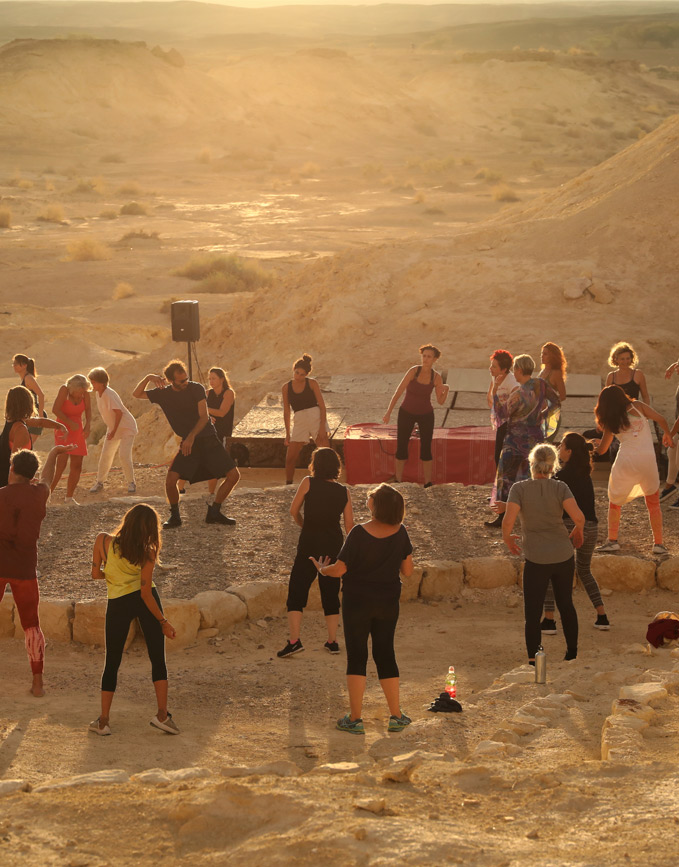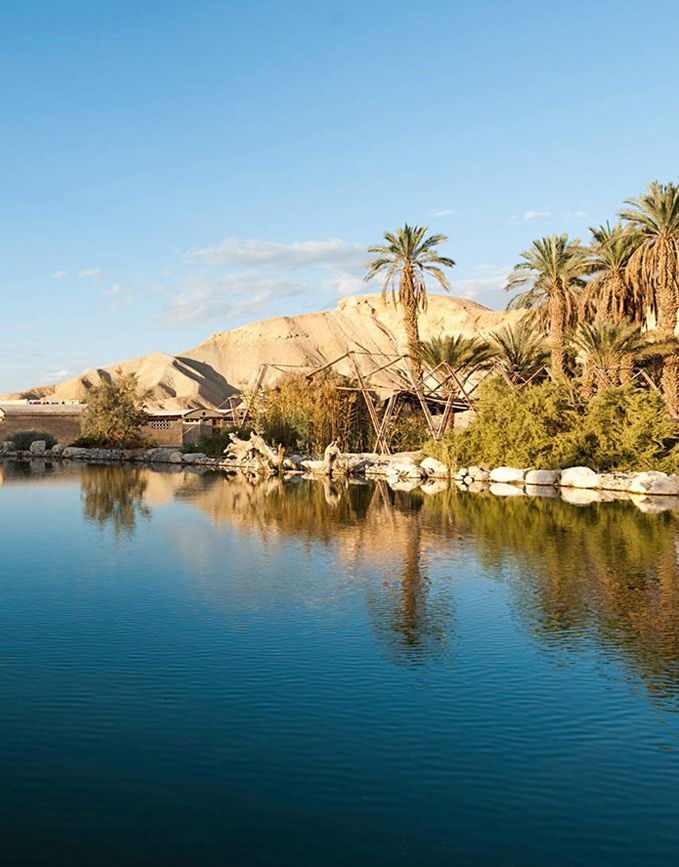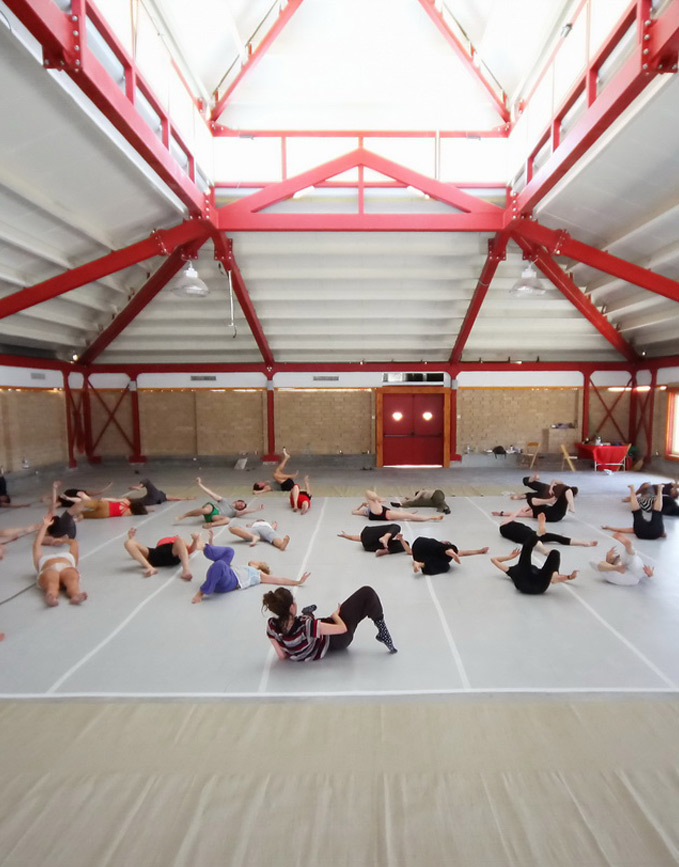 Gaga in the Desert
Gaga in the Desert – winter Edition in the desert.
After the success of the workshop last year to end the year, we will hold another workshop to close one year and start a new one. With dance participants, we invite you to start 2024 in the right way – to dance Gaga, experience the desert, eat well, awaken your senses and celebrate the new year.
Enjoy three days of a unique experience combining the pleasure of movement with the pleasant environment of the desert in springtime.
Welcome the new season while dancing Gaga, exploring the desert, and nourishing yourself with fresh meals. Awaken your senses and imagination in a unique three-day experience in one of the more scenic locations Israel has to offer. Gaga allows participants the opportunity to connect both in body and soul and experience a wide range of sensations and emotions, while developing their agility and experiencing the joy of movement in a welcoming environment. The workshop is open to both experienced Gaga practitioners and newcomers alike; past experience in movement and dance is not required.
MOA OASIS IN THE DESERT
Moa Oasis was founded in an attempt to create an institute for a culture of peace. Moa is located in the Arava desert, right along the Israel national trail and the Incense and Spice route. Moa stretches over 60 dunams and includes an orchard, a lake, and an extraordinary view of the desert's majesty. Moa is owned by the Method & Wisdom organization, which follows Buddhist teachings and has multiple monks and students permanently residing in Moa. The site is strictly vegetarian/vegan. Moa has 30 rooms/tents and a 300-square meter ceremonial hall. The drive from Tel Aviv to Moa is 2.5-3 hours long and includes the famous Sodom-Arava downhill roads. A list of participating instructors will be published a month before the workshop.
The workshop is suitable for English speakers.
Coming from abroad and interested in amplifying your Gaga experience during a longer visit? Stay later and join GagaRoom TLV, an enriching 5-day workshop at Gaga's bustling center of activity in Tel Aviv.

press here for more information
There are two airports to use to get to the workshop, as well as a private bus for workshop participants from Tel Aviv to Moa and back. More information is below.
The Teachers
Gaga teachers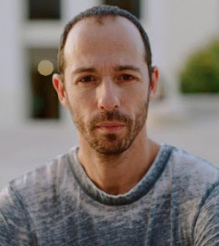 Hillel Kogan, is an award-winning choreographer, dancer and teacher, whose work has been performed in venues and festivals all over the world. Kogan has danced in companies in Switzerland, Portugal and Israel. He is assistant to Ohad Naharin in Batsheva Dance Company and around the world, co-directed the Curtain Up festival in 2015-2016, and created works for companies in Portugal, France and Austria. Kogan teaches Gaga, repertoire and contemporary dance. He has taught at companies such as Norway's Carte Blanche, Gauthier Dance in Germany, IT Danza in Spain and more.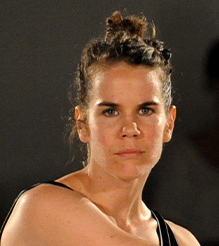 Noa Zuk is a choreographer and a dancer. At the age of eighteen she began her professional life as a dancer with choreographers Inbal Pinto and Yuval Pick and with the Young Kibbutz Dance Company. A year later she joined The Batsheva Ensemble, Batsheva Dance Company's junior company, where she danced for three years, performing up to 120 shows a year, in Israel and abroad. In the year 2000 she joined Batsheva Dance Company (BDC), where she danced for nine years. As a company member under the artistic direction of Ohad Naharin, Noa danced in all of his creations for the company during those years, Noa is also a renowned teacher, and is a Gaga teacher since 2007.
TRAVEL PLAN
Recommendations for participants coming from abroad:
Flight to Tel Aviv – Enjoy the city for a few days, or arrive the day before the workshop starts. Travel to and from Moa on a private bus with other workshop participants, with pick up from Tel Aviv on Thursday 23/3 at 11:00 and arrival back to Tel Aviv on Saturday 25/3 at 18:00.
Flight to Eilat (low-cost but limited flights) – Enjoy the sun and the Red Sea for a few days, or arrive the day before the workshop. Travel to Moa by public bus, leaving Eilat on Thursday, 23/3 at 12:00 and getting off at Tzofar Junction where a car arranged by the production team will pick you up and drive you to Moa. Return to Eilat by public bus on Saturday 25/3 in the late afternoon, or travel with the private bus to Tel Aviv, arriving there at 18:00.
Enjoying the Food in Moa
The meals at Gaga in the Desert are prepared by chef Amir Gelser. All workshop meals will be completely vegetarian/vegan, offering a wide selection of dishes based on fresh, seasonal ingredients cooked expertly and creatively. The food is handmade over many hours by cooks experienced in plant-based cuisine and under the watchful eye of the chef.
MOA OASIS Room selection
All room prices include a two-night stay, meals, Gaga classes & production.
TWIN/DOUBLE ROOM:
For 2 people with a double bed or 2 single beds, air conditioner, toilet & shower – 2700 NIS per person.
PAGODA TENT:
A large tent with 4 single beds and curtain dividers – 2200 NIS per person
HAN ROOM:
A spacious earth brick room with 4 single beds – 2300 NIS per person
SHARED ACCOMMODATIONS IN A BIG TENT:
With shared showers and toilets. Mattress with sheets & blankets included.
1800 NIS per person
COVID-related cancellations:
A full reimbursement (up to 24 hours before the workshop start date, subtracting a 150 NIS registration fee) will be made for any reasons related to or caused by official lockdown, health ministry instructions, quarantine, illness, etc.
Other cancellations:
-Up to three weeks before the start date: full reimbursement minus a 150 NIS registration fee
-1-3 weeks before the start date: refund minus a 450 NIS cancellation fee
-Between 1 week and 2 days before the start day: refund minus 600 NIS cancellation fee
-Within 2 days of the start date: no refund is possible. Participants are welcome to provide substitute guests.
PLEASE CONTACT US BY EMAIL FOR ANY FURTHER INQUIRIES.


Workshop Registration Form
Moa Oasis Gaga Workshop
March 23rd-25th 2023, Thurs.-Sat.
Please fill out the forms and an email with a link to a payment page will be sent to you shortly (according to your room selection). Please note that this form does not guarantee your reservation. Reservations will be finalized upon completion of the payment. Thank you.